The 
February 10, 2012
 Edition of Smackdown is a Professional wrestling television show of the WWE's Smackdown brand, which took place on February 7, 2012 at the 
BOK Center
 in 
Tulsa, Oklahoma
.
Episode summary
Edit
Michael Cole's interview with AJ turns into a war of words
Edit
Still wearing her neck brace from the accidental collision with Big Show last month, AJ came to the ring to be interviewed by Michael Cole. Stating that she has never blamed the giant for her injury, AJ tore into the outspoken ring announcer for never believing in her boyfriend Daniel Bryan, as well as for insulting both of them and the entire Divas division. Accusing him of "stirring up trouble," the courageous Diva referred to her interviewer as a "bias, obnoxious jerk."
A furious Cole fired back, lashing back by repeating speculation he had supposedly heard from others: that "Bryan had set her up to get injured," that the champion "had no guts" and that AJ herself "had no self-respect."
Bryan came to the ring and a tirade by the self-proclaimed "role model" ensued. The vegan Superstar claimed that, unlike the Super Bowl-watching WWE Universe, he actually cared about rycycling, the environment and AJ. He then said he was leaving to take his girlfriend home in a Prius. But, before he could, General Manager Theodore Long stopped him in his tracks, informing him that if he did take-off – thereby not facing Randy Orton – he would lose his World Title.
Alicia Fox vs Beth Phoenix
Edit
In spite of tremendous agility by Alicia Fox, the dominant Glamazon reigned supreme yet again, soundly defeating A-Fox with the earth-shattering Glam Slam.
When The Fabulous Firebird opted to continue her assault on Fox after the bell, "The Warrior Princess" Tamina emerged. Without either Diva delivering a single blow, the intense stare down that ensured spoke volumes, until the smiling Divas Champion opted to take her leave.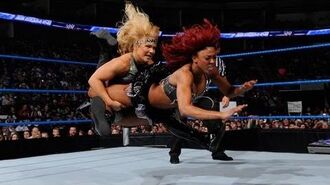 Ad blocker interference detected!
Wikia is a free-to-use site that makes money from advertising. We have a modified experience for viewers using ad blockers

Wikia is not accessible if you've made further modifications. Remove the custom ad blocker rule(s) and the page will load as expected.