The 
February 13, 2012 Edition of RAW
 is a Professional wrestling television show of the WWE's RAW brand, which took place on February 13, 2012 at 
Valley View Casino Center
 in 
San Diego, California
.
Episode summary
Edit
Eve kissed John Cena
Edit
Kane kidnapped Eve, taunting her and locking her in the back of an ambulance. John Cena ran to help, and she was freed before Kane could drive off with the former Divas Champion. Then Eve passionately kissed a stunned Cena, as a lovelorn Zack Ryder sadly witnessed.
Tamina Snuka vs Brie Bella
Edit
With a second consecutive victory on Raw, Tamina Snuka's forward momentum continued. She thwarted The Bellas' Twin Magic, defeating Brie. Tamina, the daughter of legendary WWE Hall of Famer Jimmy "Superfly" Snuka, is channeling the essence of her father, but will it be enough this Sunday when she challenges Beth Phoenix for the Divas Title at Elimination Chamber?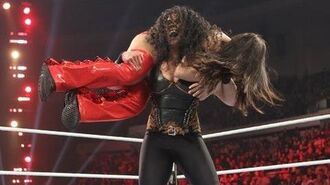 Ad blocker interference detected!
Wikia is a free-to-use site that makes money from advertising. We have a modified experience for viewers using ad blockers

Wikia is not accessible if you've made further modifications. Remove the custom ad blocker rule(s) and the page will load as expected.