The February 27, 2012 Edition of RAW is a Professional wrestling television show of the WWE's RAW brand, which took place on February 27, 2012 at the Rose Garden in Portland, Oregon.
Episode summary
Edit
Eve addressed the WWE Universe
Edit
One week after revealing that she used Zack Ryder, Eve addressed the WWE Universe and explained that she is "a woman in a man's world." She explained that she has no problem using men to achieve her goals. She implored the WWE Universe not to blame her for her natural strengths, but to blame their weaknesses.
After she left the ring, Kelly Kelly confronted Eve and asked her what has gotten into her. Eve responded by laughing in Kelly's face and walking away.
Kelly Kelly vs Nikki Bella
Edit
No doubt thinking about the recent actions of her friend Eve, Kelly Kelly squared off against Nikki Bella on WWE Raw SuperShow. The lovely Divas battled back and forth and each showed off impressive displays of athleticism. As Kelly Kelly built a fair amount of momentum, Brie Bella tried to distract the blonde bombshell, perhaps attempting Twin Magic. Kelly knocked Brie off the apron, but was rolled up by Nikki. However, Kelly Kelly proved why she is one of WWE's top Divas and reversed the pin into one of her own to secure the victory.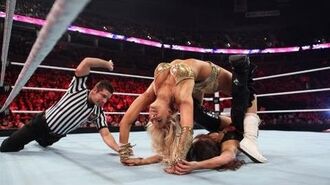 Ad blocker interference detected!
Wikia is a free-to-use site that makes money from advertising. We have a modified experience for viewers using ad blockers

Wikia is not accessible if you've made further modifications. Remove the custom ad blocker rule(s) and the page will load as expected.