Hell in a Cell (2011)
 was a professional wrestling pay-per-view (PPV) event produced by WWE and presented by WowWee's Light Strike that took place on October 2, 2011 at the 
New Orleans Arena
 in 
New Orleans, Louisiana
. It was the third annual Hell in a Cell event. Seven matches took place at the event. The event received 182,000 pay-per-view buys, down from 210,000 buys the previous year.
Event summary
Edit
Kelly Kelly vs Beth Phoenix
Edit
The third time was the charm for Beth Phoenix at WWE Hell in a Cell. Thanks to some help from her crafty friend, Natalya, The Glamazon finally defeated Kelly Kelly for her first Divas Championship.
With Eve cheering her on, Kelly Kelly put up a strong fight against Beth, but once The Glamazon locked her into the same devastating, scream-inducing hold Natalya had her in a few days earlier on SmackDown, Kelly Kelly's hopes of retaining the title began to crumble. She crawled toward the ropes, forcing Beth's punishing hold to be broken, but as the WWE official's back was turned, warning The Glamazon about her in-ring behavior, Natalya sneakily smashed Kelly Kelly with a microphone. WWE's first third-generation Diva then hit the mat with the mic so the WWE official didn't see her match-changing actions. This left the Divas Champion powerless, allowing Beth to capitalizeand hit her with a vicious Glam Slam for the long-awaited victory.
Kelly Kelly has had the upper hand over Beth for months, defending the butterfly-emblazoned title against her for two consecutive pay-per-views. Beth called these wins by the "Barbie doll" "fluke victories," and was sure it was only a matter of time before she'd finally become Divas Champion.
With her victory at WWE Hell in a Cell, Beth and Natalya are one step closer to achieving their goal of changing the face of the Divas Division by ridding it of its so-called "Cinderellas," such as Kelly Kelly. Beth, a former three-time Women's Champion, begins her reign as Divas Champion with Natalya by her side, ready to lead the charge of a "pin-up strong" division on Raw SuperShow Monday nights at 9/8 CT on USA Network.
Image gallery
Edit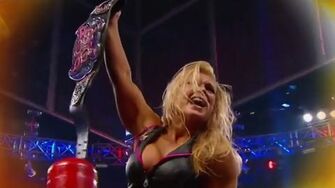 Ad blocker interference detected!
Wikia is a free-to-use site that makes money from advertising. We have a modified experience for viewers using ad blockers

Wikia is not accessible if you've made further modifications. Remove the custom ad blocker rule(s) and the page will load as expected.