The 
January 30, 2012 Edition of RAW
 is a Professional wrestling television show of the WWE's RAW brand, which took place on January 30, 2012 at 
Sprint Center
 in 
Kansas City, Missouri
 the night after
Royal Rumble
.
Episode summary
Edit
Brodus Clay vs Tyler Reks
Edit
Continuing to spread the funk in WWE, Brodus Clay downed Tyler Reks with a series of hard-hitting moves. Afterward, The Funkasaurus celebrated his victory by dancing with Naomi and Cameron. 
Beth Phoenix vs Eve Torres
Edit
After WWE Divas Champion Beth Phoenix quickly dispatched of Eve with the Glam Slam, Kane appeared on the arena screen to recall how he injured Zack Ryder at Royal Rumble. Calling out Cena for not embracing hate, The Big Red Monster said Ryder's injuries could have been avoided. Looking toward WrestleMania, Kane declared "Until Cena truly embraces the hate, he can't beat me and he can't beat The Rock."
With Eve focused on the arena screen, Kane stunned everyone and appeared at ringside. As he stalked Eve in the ring, the leader of the Cenation rushed in to confront The Big Red Monster. Full of emotion, Cena brutally attacked Kane, smashing him with the steel rings steps three times. But as he prepared to hit the Attitude Adjustment on the announce table, The Devil's Favorite Demon managed to escape and flee into the WWE Universe.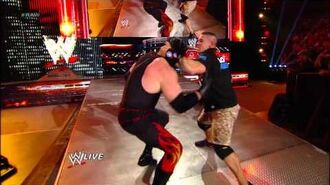 Ad blocker interference detected!
Wikia is a free-to-use site that makes money from advertising. We have a modified experience for viewers using ad blockers

Wikia is not accessible if you've made further modifications. Remove the custom ad blocker rule(s) and the page will load as expected.