The 
January 9, 2012 Edition of RAW
 is a Professional wrestling television show of the WWE's RAW brand, which took place on January 9, 2012 at 
American Bank Center
 in 
Corpus Christi, Texas
.
Episode Summary
Edit
Brodus Clay vs Curt Hawkins
Edit
After weeks of anticipation, Brodus Clay finally made his WWE Raw SuperShow debut against Curt Hawkins. Flanked by gorgeous dancers, Clay boogied his way to the ring and dominated a confused Hawkins. Following his impressive debut victory, big Brodus Clay literally shook the foundations of the WWE Universe and shuffled his way out Corpus Christi.
Eve vs Beth Phoenix
Edit
Eve made her way to the ring ready to battle WWE Divas Champion Beth Phoenix, but instead of The Glamazon's entrance theme playing, the arena went red and Kane's music played. Eve panicked, unsure of what to do until U.S. Champion Zack Ryder ran to the ring to try and help her escape. They ran to Ryder's car, which suspiciously had a flat tire.
Dolph Ziggler vs John Cena
Edit
wo weeks before facing WWE Champion CM Punk, No. 1 contender Dolph Ziggler battled 10-time WWE Champion John Cena in WWE Raw SuperShow's main event. Ziggler used his agility and amateur background to show-off and keep Cena from building momentum early in the contest. However, as Cena built up steam against Ziggler, the TitanTron showed Kane attacking Zack Ryder as the U.S. Champion tried to change his flat tire. As soon as he was free of Ziggler's attempts at a sleeper hold, Cena ran to help his broski. As he exited the arena, the Cenation leader was attacked by The Big Red Monster. The menacing Kane stood over the unconscious Cena and Ryder as Raw SuperShow went off the air.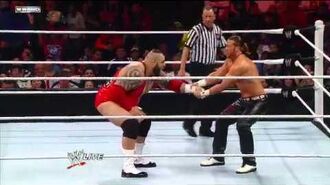 Ad blocker interference detected!
Wikia is a free-to-use site that makes money from advertising. We have a modified experience for viewers using ad blockers

Wikia is not accessible if you've made further modifications. Remove the custom ad blocker rule(s) and the page will load as expected.