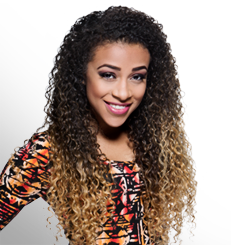 Career Highlights: "Total Divas" star; singing the National Anthem at SummerSlam 2013
With her youthful energy, determined attitude and fresh look, the multi-talented JoJo is ready to leave her mark on the Divas division and entertain the NXT and WWE Universes.
JoJo made her first WWE appearance on WWE Main Event in June 2013, dancingonto the scene with her "Total Divas" co-stars, The Funkadactyls, and singing "Somebody Call My Momma" during Tons of Funk's entrance. Don't mistake this petite wonder as just another gifted singer; JoJo is also an accomplished dancer and athlete.
With fellow newbie Diva hopeful Eva Marie by her side, JoJo made her reality TV debut a month later on E!'s "Total Divas." It was on that breakthrough hit where the WWE Universe was able to get to know this spunky newcomer. Eager to live the life of a Diva, JoJo left home for the first time to immerse herself in WWE, with former Divas Champion Natalya as her mentor.
At SummerSlam 2013, JoJo wowed the WWE Universe with her voice, as she boldly belted out the National Anthem before tens of thousands of WWE fans inside Los Angeles' STAPLES Center. If her performance there is any indication, the WWE Universe can expect this diminutive Diva to reach untold heights of success in WWE.
JoJo teamed with her E! co-stars at Survivor Series to defeat the non-"Total Divas" roster in a 7-on-7 Traditional Survivor Series Elimination Tag Team Match!