The July 1, 2013 Edition of RAW is a Professional wrestling television show of the WWE's RAW brand, which took place on July 1, 2013 at Tyson Events Center in Sioux City, Iowa.
Episode summary
Edit
Sheamus vs Fandango
Edit
Well, well, look who's back: one month removed from an injury that kept him out of WWE Payback, Fandango cha-cha'd his way back to the ring on Monday Night Raw for a tilt with Sheamus. Unfortunately, the dancing fiend's first match back was also his first match back to his old tricks.
Despite having Sheamus at his mercy for a good chunk of the bout, Fandango decided mid-match that he'd rather not tango with The Celtic Warrior at all, scramming from the bout after the Irishman's chest clubs left him wheezing for breath. The ditch gave Sheamus the win, but given Fandango's history of coming through in the clutch, perhaps he's just saving himself for a more "bank"-able opportunity.
Kaitlyn vs Alicia Fox
Edit
Kaitlyn's still on a roll en route to her Divas Title rematch, but if AJ Lee's actions are any indication, she's not about to let her former friend get there without a few more mind games. The "Hybrid Diva's" in-ring performance hasn't been compromised in the slightest by the "Black Widow's" bite, as she matched Miss Fox's agility with pure power and sealed the match with a spear to Alicia's gut.
But after the bell was when the real trickery started, as AJ arrived onstage with Big E Langston to continue the Divas' game of one-ups(wo)manship by revealing a heavily-doctored "modeling photo" from Kaitlyn's pre-WWE days. Though the preposterous pic was clearly a phony, it was still enough to nearly drive Kaitlyn into a mad rage. But thanks to the timely efforts of Layla, AJ's comeuppance went undelivered another week.
Stephanie McMahon confronted Vickie Guerrero
Edit
After weeks of conflicting orders from WWE's first family, Vickie Guerrero finally got a concrete proclamation from Stephanie McMahon. Just not the one she necessarily wanted.
With Mr. McMahon and Triple H previously questioning Vickie's managerial supervision, she was thoroughly exasperated by the time Stephanie got a hold of her. And although Vickie's tearful pleas prevented The Billion Dollar Princess from bringing down the hammer, Stephanie did hit Vickie with a final bombshell: In the interest of giving her fair direction and preserving the unpredictable nature of Raw, Vickie would be subject to a formal job evaluation next week. Now that said unpredictability extends to her job security, though, Vickie seemed like she'd give anything for the comforts of familiarity.
Singles Match: Sheamus defeated Fandango (w/ Summer Rae) by Count Out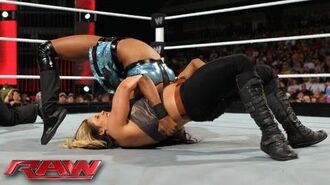 Ad blocker interference detected!
Wikia is a free-to-use site that makes money from advertising. We have a modified experience for viewers using ad blockers

Wikia is not accessible if you've made further modifications. Remove the custom ad blocker rule(s) and the page will load as expected.