The July 12, 2013 Edition of Smackdown is a Professional wrestling television show of the WWE's Smackdown brand, which took place on July 9, 2013 at the Hampton Coliseum in Hampton, Virginia.
Episode summary
Edit
The first-ever in-ring Divas Championship Match Contract Signing turned to chaos
Edit
With the majority of the Divas Division surrounding them, Divas Champion AJ Lee and Kaitlyn emerged to make their  Money in the Bank Title Match official.
After both battling beauties affixed their names to the title contract for this Sunday's pay-per-view showdown, AJ proceeded to reveal a series of embarrassing text messages that the Hybrid Diva had once supposedly sent to her "secret admirer" – some of which badmouthed the Divas present in the ring. 
When Kaitlyn fired back, promising to recapture the butterfly-emblazoned title this Sunday and send her unhinged adversary to the loony bin, AJ slapped her. In response, the powerful No. 1 contender broke loose, pushing AJ and the entire conference table into the corner and unleashing an explosive attack. When Big E Langston pulled Kaitlyn away, she slapped him and speared AJ for the second time in a week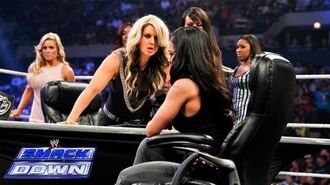 Ad blocker interference detected!
Wikia is a free-to-use site that makes money from advertising. We have a modified experience for viewers using ad blockers

Wikia is not accessible if you've made further modifications. Remove the custom ad blocker rule(s) and the page will load as expected.