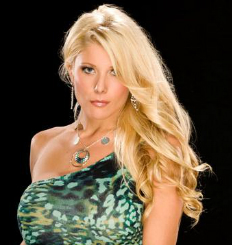 Kristin Eubanks, better known as Krissy Vaine, had a very brief WWE career in 2007. On September 14, a mystery woman (Eubanks) came into the ring and assaulted Torrie Wilson after her match. This mystery woman would make one last appearance the following week talking to Vickie Guerrero backstage about her first match and after that was never seen again. She was never given an official name until August 2013 (6 years later), when WWE mentioned her in the "Every Diva Ever" photo gallery under her ringname "Krissy Vaine".
WWE Release
Edit
Kristin Eubanks asked and was granted her release due to illness in her family just two weeks after her debut on the main roster.
Ad blocker interference detected!
Wikia is a free-to-use site that makes money from advertising. We have a modified experience for viewers using ad blockers

Wikia is not accessible if you've made further modifications. Remove the custom ad blocker rule(s) and the page will load as expected.