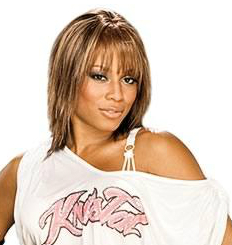 WWE.com Biography
Edit
Kristal had the chance to shine as SmackDown's beautiful locker room area interviewer, but became extremely jealous when 2005 Diva Search winner Ashley came over from Raw and stole her spotlight. She has lashed out at Ashley everywhere from the makeup room to the ring. At The Great American Bash, Kristal was overshadowed again when Ashley stripped her down to her lacey undergarments to win the Four Way Bra and Panties Match. Will Kristal accept her lot in life behind Ashley or will she find a way to out-do the blonde Diva once and for all?
Kristal came to SmackDown after coming in fourth in the 2005 Raw Diva Search contest, but that wasn't her first taste of stardom. She has been a Barker Beauty on Price is Right, appeared in music videos for 50 Cent and Mase and has also done a series of commercials for Best Damn Sports Show.
Ad blocker interference detected!
Wikia is a free-to-use site that makes money from advertising. We have a modified experience for viewers using ad blockers

Wikia is not accessible if you've made further modifications. Remove the custom ad blocker rule(s) and the page will load as expected.