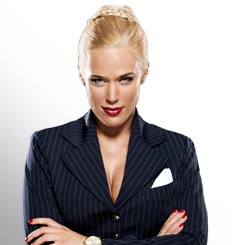 Height: 5'7
From: Moscow
Born into a wealthy Russian family, Lana's neighbors were ex-presidents, diplomats and other powerful political figures. Fulfilling her desire to pursue a stateside education, Lana attended Florida State University, where she not only learned English, but also majored in Foreign Affairs, Business and Social Media Marketing.
Encouraged by her parents to discover an investment hobby, Lana invested her knowledge and business acumen into Rusev. Living by the philosophy that no mountain is too high to climb, Lana plans to use her smarts to conquer WWE.
Following Rusev's impressive debut in the 2014 Royal Rumble Match, Lana put The Bulgarian Brute on full display, delivering their message of superiority to the WWE Universe.
The authoritative Social Ambassador created a stir in the WWE Universe at Extreme Rules 2014 prior to Rusev's dominating performance against R-Truth and Xavier Woods, when she dedicated the match to her idol, Russian President Vladimir Putin.
Lana not only displayed a significant amount of control over her client's actions – commanding the massive powerhouse to "crush" his opponents – but the ruthless Social Ambassador also relocated the dominating Superstar to her native Russia.
Apparently no American is off-limits to Lana's scathing criticism, even the leader of the free world. In June 2014, The Ravishing Russian called United States President Barack Obama a "sissy" and a "girly man," while affirming Russian President Vladimir Putin as a strong and virile man who would "crush" the 44th president of the United States.
The WWE Universe's growing affections toward The Ravishing Russian prompted jealousy issues between Lana and Rusev. At WWE Payback, during Rusev's "I Quit" Match against Cena, Lana – concerned for Rusev's wellbeing at a key moment in the match – informed the referee that the foreign Superstar had uttered "I quit" in his native Bulgarian.
After going through a very public and messy breakup with Rusev, Lana aligned herself with Dolph Ziggler. Despite The Bulgarian Brute's vocal objections, the ravishing Lana and The Showoff continued to engage in a relationship that they made official on the June 29 Raw.
At SummerSlam 2015, Lana and Summer Rae erupted into a ringside scuffle during Ziggler and Rusev's match, ultimately causing the contest to end in a double count-out.
On the Aug. 31 Raw, The Ravishing Russian's relationship with Ziggler hit a rough patch when the sultry Summer accused The Showoff of trying to seduce her while in his locker room.
On top of her relationship issues with Ziggler, the ravishing Lana suffered a wrist injury while training before a WWE Live Event in September. The injury is expected to keep her out of action for approximately four months.