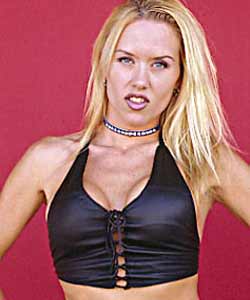 Mandy is a former WWE Diva, who made appearances in the fall of 2000 as a Godfather's Ho and valet of Too Cool alongside Victoria.
WWE Biography
Edit
In July 2000, Mandy and Victoria made their debut as a "Ho" of the Godfather. When the Godfather turned heel, he turned his back on the Hos. Mandy and Victoria began a "Save the Ho's" campaign. This led to Victoria and Mandy being attacked by the Right to Censor, a stable being based of the Parents Television Council (PTC). They later returned with Rikishi and began acting as valets of Too Cool. They continued this until October 2000, when GTV discovered Eddie Guerrero in the show with both ladies (who was in a relationship with Chyna). Chyna found both of them in Eddie Guerrero's locker room a week later, where they both apologized for hurting Chyna. Chyna accepted their apology, then closed the door and beat them up off-screen. When the door opened, both ladies were laid out. Mandy was never seen again.
Mandy was released in November 2000 as part of a budget cut.
Despite being a personality for a few months, Mandy was not mentioned in the "Every Diva Ever" gallery on WWE.com
Ad blocker interference detected!
Wikia is a free-to-use site that makes money from advertising. We have a modified experience for viewers using ad blockers

Wikia is not accessible if you've made further modifications. Remove the custom ad blocker rule(s) and the page will load as expected.