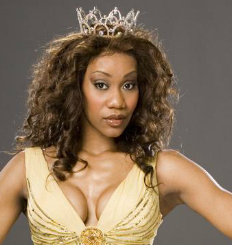 WWE.com Biography
Edit
Queen Sharmell's man, King Booker became the self-proclaimed "king of the world" at The Great American Bash, as the King defeated Rey Mysterio to become the new World Champion fulfilling the King's quest to Camelot. Since then, he was defeated for the Championship, but not before a long and glorious reigns as King of the SmackDown mountain.
As the new Queen of SmackDown, Sharmell will continue to stand faithfully by the side of King Booker just as she has since marrying the Superstar in 2005.
While she may be a former Miss Black America, Sharmell is not just another pretty face. Behind that beautiful face is a devious mind, and Sharmell is not afraid to do whatever it takes to help her husband, King Booker, succeed on SmackDown.
After their marriage, Sharmell began to accompany her man to ringside. Shortly after, Booker's attitude began to change, and Sharmell began interfering to help him win his matches. At first, Booker feigned innocence, but the charade was eventually broken. When Sharmell's interference helped Booker defeat Chris Benoit for the United States Championship in October 2005, The Rabid Wolverine questioned his friend about her involvement. The next week, Booker viciously attacked Benoit, revealing that he knew about Sharmell's involvement the whole time.