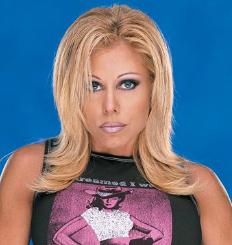 Terri Runnels (also known as Marlena from 1996 to 1998) was one of the first WWE Divas as we know them today. She is best known as a manager for the likes of Goldust, The Hardy Boyz, & Perry Saturn. She also had a feud with The Kat in 2000 that led to two pay-per-view matches at WrestleMania 2000 and SummerSlam 2000. After 2002, Terri became a backstage interviewer for the RAW brand until her departure in 2004.
Terri was the first WWE Diva to be put through a table.
Held the record for longest lasting Diva (8 years; 1996-2004) until Lilian Garcia broke the record in 2008.
Her 'Terri Runnels Invitational' helped launch the careers of The Hardy Boyz and Edge & Christian into stardom. The No Mercy 1999 Ladder match is regarded as one of the best ladder matches of all-time.
Ad blocker interference detected!
Wikia is a free-to-use site that makes money from advertising. We have a modified experience for viewers using ad blockers

Wikia is not accessible if you've made further modifications. Remove the custom ad blocker rule(s) and the page will load as expected.